A beautiful garden does not only have to look fresh and alive and grow tasty fruits, veggies, plants, and gorgeous flowers, but it must also be organized and designed in such an eye-popping way that it will draw your attention every time you look at it. If you are currently looking for some fantastic garden ideas to put into practice, we are going to provide you with some hopefully insightful gardening tips and tricks that should make a difference.  
General Backyard Gardening Tips To Consider
No matter if you own a smaller or an extensive backyard garden with a sprawling lawn, you are going to find a number of excellent ideas that you will find interesting enough to put into practice. If you will choose a more subtle and seamlessly woven idea that will nicely blend in with the rest of the surrounding areas, including the house and lawn, you will enjoy an even higher level of stylistic coherence. This will count toward differentiating your backyard garden from your neighbors' and create the most aesthetically pleasing backyard scenery for you.
Backyard Gardening Ideas We Think You Are Going To Love
Don't Cry Over Spilled Flowers.. Embrace Them!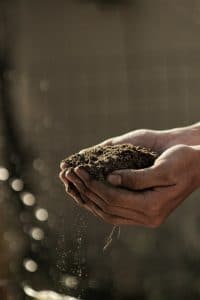 The spilled flowers planters over a backyard garden design idea is by far one of the favorite of many garden lovers. The spilling planter is actually a decorative garden display that features flowing patterns as well as vines in order to create the illusion of water flowing out of overturned vessels, planters, and so on.
You could opt for small tabletops with flowing vines to create the illusion of water overflowing on from either the top or the spout and use spacious barrels, urns, or your favorite or planters for it. You can turn these on the side and bury them in the soil or fill them up with soil, while also letting small flowers grow in the area around the vessels.
You will need to focus on planting the flowering plants in such a special type of arrangement that it will nicely simulate the idea of a puddle and spilled water. 
You can opt for the terra Cotta spilling petunias' décor or choose a different type of flowers, making sure the chromatics of the flowers and the pots will match the rest of the backyard garden décor. Let your imagination run loose when deciding upon these details and either emulate a natural structure that already exists or create a new one from scratch, if you are creative enough.
Upcycle A Garden Bird Bath
If you happen to love blue-jays and cardinals and you would love to be able to see them take a bath up close and personal, a garden bird bath is just what you need for your backyard garden. Plus, these structures can also be used as excellent additions to any garden as they are very aesthetically pleasing. They will send out the clear message that your garden is so much more than the place where you grow some plants and actually express your undivided love for this hobby.
How to create these safe haven for little birdies? For starters, you could gather in the kids for this one. You could take an existing bird bath and upcycle it, turning it into a one-of-a-kind bath that your neighbors are going to be jealous of.
A table leg stand bath structure is an excellent idea that is easy to design and build. You can use a recycled chair leg or an old table you are no longer using and have the bird bath stand on it. You will need to use a nail, a screw or some glue and fasten the bowl that the birds are going to use to wash in to the top of the chair leg.
You could also try the glass lampshade idea and make our backyard garden look more elegant and classy than ever. For this project, you are going  to need to use a decorative glass bowl that you will need to place high up on a thin pole.
A mosaic bird bath is another practical idea that will end up looking great in your backyard, you can make use of any old and chipped tiles for this project or invest in some new ones, if you have certain colors and patterns in mind to complete the look of the new bird bath. Opting for a simpler look and style when it comes to the selected mosaic should help make the bath suitable for an open area, provided you will build a wider base on it.
Fruit Trees In Pots For Mini-Balcony Gardens
Provided you own a very small vertical garden in your balcony or on a patio and you would like to grow a couple of fruit trees there as well, you could opt for the potted fruit tree alternative. You could direct your attention on fig trees or orange trees in particular here, as they are known to do extremely well in pots that are at least one foot in terms of diameter, as well as one foot in terms of depth. 
Make sure you select a a variety of fruit trees that is known for being able to survive in colder climates, even though you might not be living in one. This is because planters are known to freeze faster than plants and tees that are set into the ground.
Fairy-Themed Backyard Garden Ideas
If you have always had a fascination for fairytales and everything fairy-related and you would love to take on a fairy-themed backyard garden projects, now is your chance to do it. Choose your preferred small birdhouses, select the most beautiful stones with a rustic feel and the best of small fairy-based and colorful accessories, add a vividly colored spilled flower pot and watch your kids' faces light in with joy at he sight of this beauty.
Consider opting for some dwarf trees that are around 15 feet in height as well as width and choose for the best-looking ornamental dwarf trees that you feel would best blend in with your fairy-themed backyard garden project. Choose anything from crabapples, camellias, or crepe myrtle and others and enjoy the beautiful flowers and their splendid foliage as well.
You could also consider using some Mid-century plant stands for your new backyard garden project and opt for a plant stand made of wood that will perfectly fit in any space.
Additional Gardening Tips and Tricks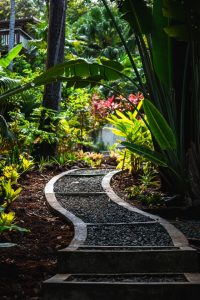 Make sure you give your lawn the right shape so it can accentuate the beauty of your newly designed garden. Use anything from an oval, a rectangle, an oblong or a square – it is entirely up to you and your own artistic vision.
It is a good gardening idea to begin with the structural plants and place the evergreen shrubs at the end of the borders. Place box balls and mahonia in larger areas and use flowering plants to fill in any remaining gaps. Preferably, you will not use more than 6 types of plants and have them arranged in patterns that repeat themselves so you can obtain a beautiful visual harmony.
You can use narrower and lower beds of plants to clearly mark the seating areas in your garden. You can also consider using lined troughs like lavender here and keep in mind that containers will provide you more flexibility. You will be able to freely move them around whenever you feel like making some small changes.
The seating area could be decorated with star jasmine flowers as they produce white and nicely scented flowers all summer long. They also react good when they are cut back and this makes them suitable for placing them behind the seating area in a place where you will not want to have any hanging plants over.
It is also a fantastic gardening idea to invest in flowering plants that are also out of season so you benefit from beautiful colors all year. For this, you could also consider putting in spring or early summer flower bulbs.
Finally, you could also consider opting for the multi-stem trees idea. You will manage to trigger an excellent architectural piece on display by planting these trees. You can also make use of some stylish canopies and create an even more powerful statement from a garden structure point of view. Combine the multi-stem trees idea with soft planting and you will obtain a fully deconstructed woodland you are going to love seeing every day.
Also, keep in mind that if your paving is colored in white or grey and it has random patterns on it, you could design your backyard using French country design ideas look. On the other hand, if the pavement is colored in silver, you could use it as the backdrop for a modern garden design, whereas golden paving and a more complex pattern could work well with an English country backyard design. 
Just remember to also let your imagination run wild and use the internet as a solid source of information if you feel like you could use a few extra pointers. 
Provided you own a very small vertical garden in your balcony or on a patio and you would like to grow a couple of fruit trees there as well, you could opt for the potted fruit tree alternative.
Absolutely! It is also a fantastic gardening idea to invest in flowering plants that are also out of season so you benefit from beautiful colors all year. For this, you could also consider putting in spring or early summer flower bulbs.