Besides the many wonderful benefits that traveling comes with, it also has a less pleasant side: it leaves tons of unnecessary waste. Just think of the small plastic bags filled with small-bottled toiletries for skin or hair care that you normally throw into your suitcase without putting too much thought into it. 
Nonetheless, these plastic toiletries and the chemicals in them are known to toss a great burden on Mother Nature's shoulders. Replacing them with their green counterparts can make a huge difference.
If you are determined to live a more sustainable lifestyle whether at home or while traveling, here are a few ideas of cool eco-friendly travel toiletries that you should consider using from now on.
What Are Eco Friendly Travel Toiletries?
In order for toiletries to be consider eco-friendly, they need to only contain vegan, natural, and organic ingredients, no palm oil, and be 100% cruelty-free. They also need to come from ethical sources and their impact on the environment should be kept to a minimum. Given the numerous chemicals that are used in the manufacturing process of these toiletries, it is mandatory that they are given the right treatment and that they are safely dispersed into waterways.
The packaging of these toiletries should also contain no harsh chemicals and they should not be made from plastic. While toiletry products that contain lots of synthetic substances are more affordable and also cheaper to manufacture, store, or transport in their plastic packaging, these are also harmful to your own health, as well as the well-being of the environment.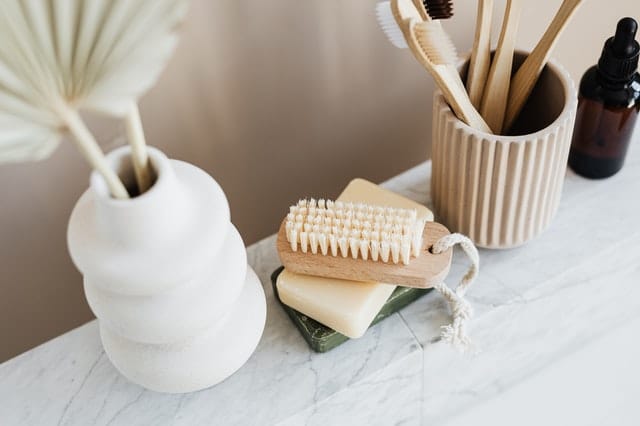 Cool Eco Friendly Toiletry Products to Start Using Today
If you plan on traveling to an eco-friendly resort, chances are you will be given eco-friendly toiletries upon your arrival there, which means you should not concern yourself with buying your own. However, keep in mind that some of these special green vacation spots may not even allow guests to bring in and use toiletries that contain chemicals, given the fact that the ground can absorb the resulting grey-water. This is why you should always get in touch with them before you go and ask about their exact eco-friendly toiletry policy.
Organic, All-Natural Deodorant
Did you know that extremely sensitive lymph nodes are found on right beneath the skin of your armpits? Now think of all the harsh chemicals you are forcing that skin to absorb on a daily basis, when putting on your favorite deodorant. Without a doubt, you have every reason to make the switch to an eco-friendly deodorant, and products made from 100% natural ingredients that are also organic, sold in glass jars that can be reused are some of your best choices.
These are also sold in the ultra-sensitive alternative that contains arrowroot powder for completely dry and nice-smelling armpits throughout the day. Similar benefits can be enjoyed with the eco-friendly deodorants that are zero waste alternatives produced in a sustainable farm located in various parts of the world.
For those of you who prefer to use deodorants in solid form, there are brands that sell products made from bamboo, Magnesium Hydroxide, jojoba, Zinc Oxide, and sweet almond. Make sure they are 100% vegan-friendly as well as sustainable.
Biodegradable Shampoo
Given the fact that there are more than 80 billion plastic shampoo bottles consumed on a yearly basis, and many of them reach the oceans of the planet, it would seem only natural for people who want to live a more sustainable lifestyle to make the switch to a more natural alternative.
Biodegradable shampoos belong to the special category of eco-friendly toiletries that you should consider next time you need to go shopping for travel toiletries that are good for the environment.
Opt for shampoos that are not packaged in plastic bottles, that will not don't leak in your luggage, and which are 100% vegan, made with all-natural ingredients, no palm oil, following zero waste and cruelty-free policies.
Look for refillable shampoo bottles as well as conditioners that are packaged in reusable aluminum bottles. If you would like to use all organic and hypoallergenic shampoos and conditioners, you should also find plenty of suitable options as well.
Choose Eco-friendly Sunscreen
Buy sustainable travel products that you should include on your list of must-haves every time you need to pack for travel again. Make sure the sunscreen does not contain any Oxybenzone or Octinoxate, as these substances are known to damage coral reefs and trigger the bleaching of corals.
Make sure to focus on buying products that contain titanium oxide and zinc oxide, as they are capable of protecting you from the harmful effects of the sun. Other ingredients of sunscreen lotions are known as filler and they basically serve for creating volume. Search for those brands that contain fillers made from natural ingredients and which are also biodegradable. This way, you will considerably lower your carbon footprint and products that are sold in reusable tins are good options here.
Bamboo Toothbrushes and Zero-Plastic Toothpaste
Bamboo toothbrushes are 100% biodegradable and extremely light to carry around in a backpack when going camping. Besides, they are extremely useful and efficient and they will never end up polluting the soil or the water as they come with charcoal bristles instead of the standard nylon bristle.
They are not sold in plastic packaging, which means they are a great fit for those of you looking to invest in zero waste toiletries. Look for brands that sell toothbrushes that are made from bristles made from plants such as tapioca and corn or focus on models with bristles made from castor bean oil and nylon bristles, sild in cardboard packaging and plant-based wrapper.
Zero-plastic toothpaste that are sold in recyclable or reusable packaging such as glass jars, metal or aluminum tins and tubes are a great idea for happy and responsible campers who care about the environment.
Organic, Biodegradable Beauty Products
If you are looking to make the switch to more ethical and organic beauty products, the environment is not the only way that will thank you for it. Also consider the numerous health benefits for your skin when you will be bidding goodbye to chemical-based products and saying hello to zero- paraben and zero-phthalate creams, mascara, lip-gloss or eyebrow pencils instead.
Always read the labels carefully and steer clear from those products that are normally sold by mainstream beauty brands. Choose your favorite organic makeup products that contain almond oil, minerals, or beetroot for pigmentation and start reaping the benefits.
Other important eco-friendly toiletries are organic essential oils, menstrual cups that will help you cut your plastic waste every month and take up a lot less space in your bags when traveling, makeup wipes you can use again and again with zero problems or hair ties that contain no plastic.
Save money with the help of these reusable products, cut your plastic waste, and opt for healthier and safer choices for both you and the planet using eco-friendly toiletries. 
So if you are looking to make the switch to an eco-friendlier lifestyle, you have plenty of solid options to look into. Start living healthier and showing more concern for the planet today!
Eco friendly toiletries are cruelty-free and made following 100% ethical procedures most of the time. However, not all product brands willingly disclose all the material sources or the facilities used to manufacture their products. This is why the focus usually falls on the way these items will impact the environment by minimizing the use of packaging made of plastic and the use of harmful chemical substances.
They usually cost a little more than standard, non-organic products and they may be more difficult to come across when traveling.